Skip to content
Masterclass Malaysia
24 - 27 May 2022
Innovatrics Integration Training
Next Destination: Port Dickson, Malaysia!
After our hugely successful Masterclass in México, we now continue with integration trainings for our most valued partners on the other side of the world – Malaysia. Our team has prepared numerous valuable training sessions to keep attendees updated on all relevant product information.
Masterclass Malaysia is a free-of-charge training focused on the practical integration of our solutions. IT engineers, developers and technical directors, who are in direct contact with our products, will greatly benefit from it.
Agenda
Our technical consultants will do presentations about our entire product portfolio, including their technical functionalities, integrations, demos, and hands-on activities.
After each day, there will be private consultations, where our biometric experts will help you find the best solution to your needs.
DAY 1 will be focused on our Digital Onboarding Toolkit. It'll also include the latest updates, as well as practical demo sessions.
DAYS 2&3 are entirely dedicated to the newest ABIS 8 – a review of the new UI, case management, criminal enrollment, API definition, client generator, and more.
DAY 4 is all about our SmartFace facial recognition platform – its technical functionalities, integrations, demos, and hands-on activities.
Lunch on us!
To make sure we don't run out of energy in our in-depth trainings, we're sponsoring the catering for our coffee breaks and lunches. On DAY2, we're also taking you to dinner to a local restaurant, with all the makings of a fun-filled evening!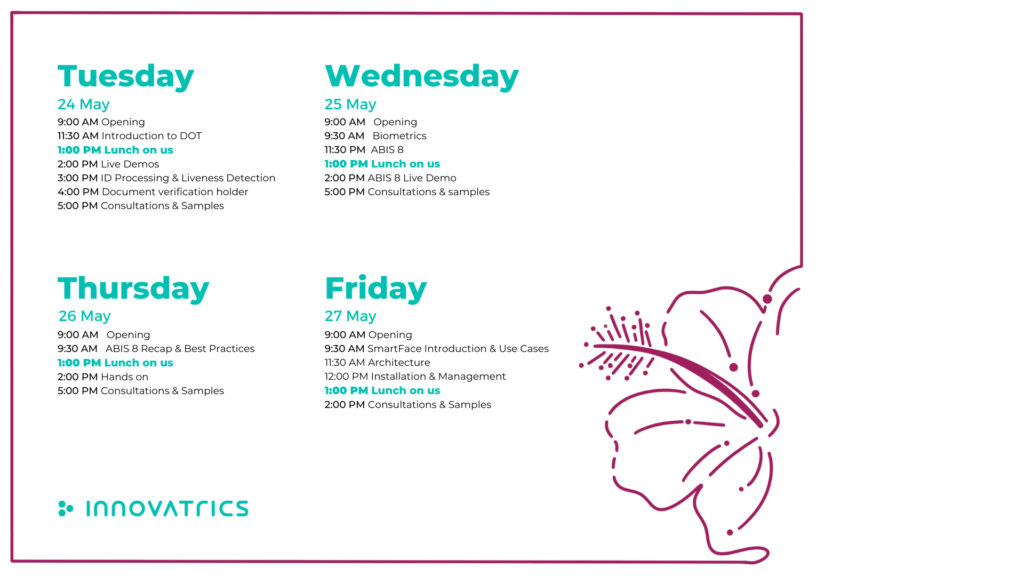 Venue & Logistics
The Masterclass is taking place at the beach front hotel in Port Dickson, Malaysia. It's located near the center, surrounded by multiple hotels, bars, and restaurants.
Get your directions to the Lexis Hibiscus hotel here.
Important Contacts
Logistic information
Tereza Kovacova tereza.kovacova@innovatrics.com / +421 915 424 916
Director of Sales APAC
Mate Fejes, mate.fejes@innovatrics.com / +65 8351 5193
Arrange a meeting
(24 - 27 May 2022, Port Dickson, Malaysia)