12/11/2018
Our multimodal biometric solutions grabbed the spotlight in every event we took part in scattered across every corner of the globe.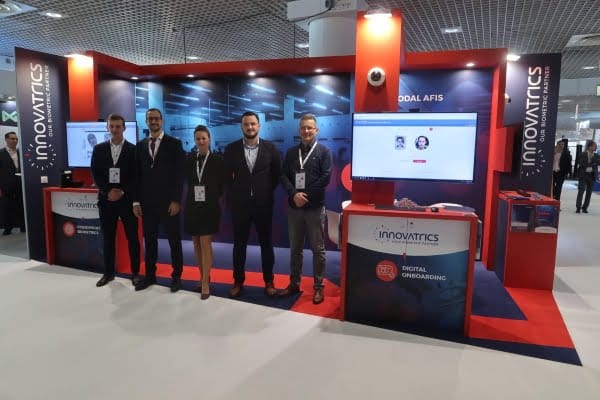 No distance was far enough for the Innovatrics team in 2018, breaking barriers to personally introduce and demonstrate our proprietary cutting-edge technology. We didn't just passively exhibit, but also took the lead in 8 presentations centered on mobile facial biometrics, digital onboarding and real-time ABIS deployment among others.
How our biometric solutions can impact and better your respective businesses and organizations is our ultimate goal in taking our tailor-made solutions on the road. Meeting clients, benchmarking with industry pioneers, and getting direct feedback from organizations who demand smart flexible solutions involving biometrics fuel our objective to constantly innovate.
Here's a rundown of what transpired in 2018:
Scene Stealer: Digital Onboarding Toolkit (DOT)
As banks and financial institutions demand even more secure processes and systems to safeguard the privacy of their clients, it's hardly surprising, then, that our fully automated digital onboarding solutions drew the most fanfare. We introduced DOT Web and DOT Mobile, utilizing AI-powered optical character recognition (OCR) and advanced facial biometrics into a mobile app. A simple selfie logs you into your account after a quick but comprehensive authentication using your phone. And to make it foolproof, a 'Liveness Test' is conducted by following with your eyes a randomly moving dot appearing on the screen. This innovative approach in responding to shifting customer demands is one of the many reasons why we are among CIOReview's 20 Best Banking Technology Solution Providers in the world in 2018.
Perennial Favorite: Multimodal AFIS/ABIS
Designed for projects of all sizes such as national ID and social security, traveler documents and authentication of employees, our multimodal AFIS/ABIS offers you the most reliable and robust identity management solution. Its open architecture enables you to add independent modules subject to your needs. It's not only one of the fastest, but the most accurate AFIS available on the market. This year alone, we've delivered and supported dozens of multimodal AFIS/ABIS projects spread across North & Latin America, Africa, the Middle East, Europe, and Asia. Our partners enjoy extensive support and the best customer care throughout and beyond the deployment of their bespoke solutions.
Up-and-coming: Facial Recognition Technology
As one of the leading facial biometric technology companies in the world, we've been relentless in continuously developing and adding new features and functionalities. Using AI and deep neural networks, our face recognition algorithm for face identification and verification is one of the best in the world. Smartface, a plug & play universal facial recognition solution, lets you perform advanced demographic analysis even without any biometric knowledge. Included in its comprehensive feature set are real-time face detection, recognition, age/gender detection, and unique visitor counting. Our new tool, Face Adjudicator, lets you visually compare faces detected in videos with faces of those registered in AFIS/ABIS. Similar to fingerprint identification or verification, facial and iris matching can also be used via API.
More state-of-the-art biometric solutions await in 2019. Until the next event!