5/12/2020
With clients and partners operating in every corner of the globe, our different teams have been hard at work helping and assisting them to efficiently cope with these unpredictable times. Innovatrics doesn't only provide the most reliable AFIS in the world, we also have one of the most advanced face recognition solutions around.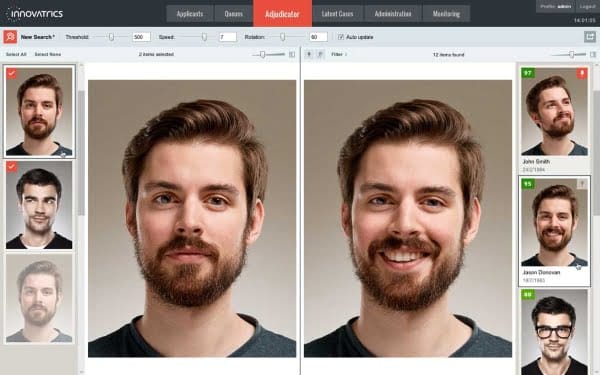 The Innovatrics ABIS platform can easily be elevated with facial modality, upgrading your existing system to a fully contactless, automatized, and flexible solution.
Start with a reliable face recognition algorithm
Boasting an accuracy rate of 99.69 %, Innovatrics face recognition in 1:N category has consistently been among the best in the world. It only takes 13 ms for the algorithm to find the correct face in a dataset of 12 million enrollees. Even when people are wearing masks, the accuracy is at 99 %, proving its undeniable reliability in tough face recognition conditions.
Go for compatible solutions with your existing platform
Sadly, not all legacy fingerprint-based solutions are compatible with just any face modality. Upgrades can therefore be costly and laborious. Fortunately for those with an existing AFIS platform from Innovatrics, the system can easily be elevated with facial modality.
Leveraging multimodal biometric software utilizing fingerprint, face, and iris recognition technology, Innovatrics ABIS empowers you to customize your ideal identity management solution.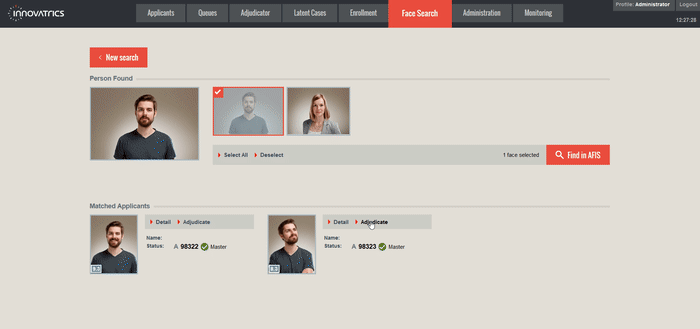 Make sure your partner can provide support at all times
Finding high quality support is like looking for a needle in a haystack. Here at Innovatrics, we go the extra mile to respond to all your needs. Despite these challenging times, our delivery team can carry out upgrades remotely even in offline environments. Using a combination of mobile connectivity, secure VPN, and a certified KVM switch for transferring keystrokes, mouse movements, and HDMI video, Innovatrics can securely connect to any offline computer in the world and deploy Innovatrics biometrics software.
Leverage solutions that let you enroll users without costly hardware implementation
Implementing Innovatrics solutions allow you to perform enrollment locally using a simple web camera. Our enrollment module consists of mobile and server components, integrating optical character recognition (OCR) and industry-leading facial biometrics. In the event of a lockdown, you can continue enrolling remotely to keep operations running. Moreover, Innovatrics Digital Onboarding Toolkit offers 3 steps to frictionless onboarding online by simply using a mobile phone.
Combining proactive customer care and robust biometric technologies, Innovatrics can help you quickly and smartly adapt to whatever challenges the future brings.